| | | |
| --- | --- | --- |
| Monday | 9 May | Arrival. Visit NMNHS*. Registration. Accommodation. |
| Tuesday | 10 May | Opening. Presentations. Welcome dinner. |
| Wednesday | 11 May | Presentations. |
| Thursday | 12 May | Field trip** in the areas of the Mouse-tailed Dormouse. |
| Friday | 13 May | Presentations. Closing. Farewell dinner. |
| Saturday | 14 May | Post-conference tour. Optional. Not included in the conference fee (see below). |
* When arriving in Sofia it is possible to attend a free tour through the National Museum of Natural History in Sofia (NMNHS). If interested, indicate this in the registration form.
** Thursday field trip will involve a walk of about 5 km in a hilly landscape and on walking paths that can be rough and muddy.
If you have difficulties doing this, please indicate this in the registration form (under mid-conference excursion) so we can see if we can arrange transport.
Post-conference tour (optional)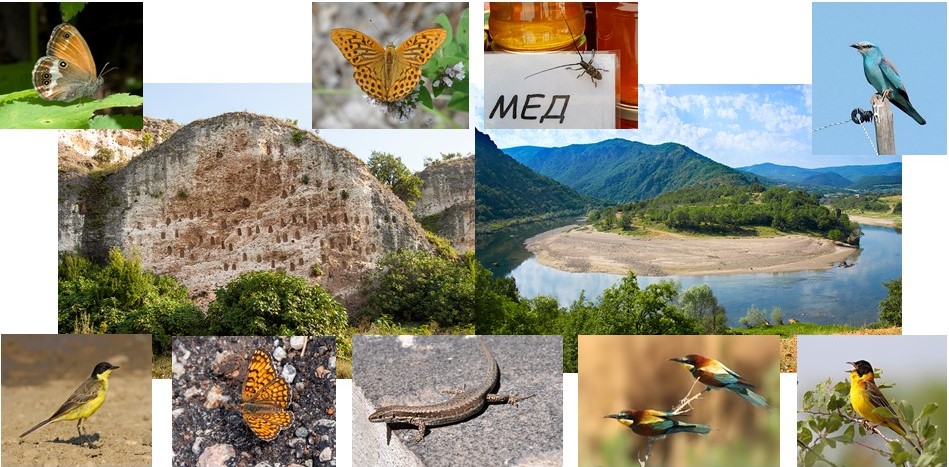 IDC 2022 offers a post-conference tour through the Eastern Rhodopes. This tour is not included in the conference fee, and you have to register for it separately. The tour takes place on Saturday, May 14 and will take the whole day. Accommodation for the night from 14th to 15th of May is not included in the price. You'll have to book an extra night in your hotel when you join this tour.
The participation fee is € 80 and must be paid in advance to the bank account of The Habitat Foundation, clearly mentioning "Post-conference tour IDC2022" and the name of the participant.
In the registration form, you can indicate if you want to join the post-conference tour.
The tour starts in Svilengrad. We will travel to Perperikon, the largest megalith ensemble site in the Balkans. Human activity in the area dates back to 5000 BCE. It is also a place where you might stumble upon The Eastern black-eared wheatear. On the way, we will pass through Stambolovo, famous (also outside Bulgaria) for its wine.
From Perperikon we will travel to Madzharovo, in the heart of the Eastern Rhodopes. This European Biodiversity hotspot became famous for its large colony of Griffon vultures (117 breeding pairs in 2021). On the rocks where the vultures breed, you might also see Red and Blue rock thrushes, Rock nuthatch, Crag martin, Egyptian vulture and Black-headed bunting, while along the Arda river Black-headed wagtail, Black storks and Red-rumped swallows forage. Don't forget to look down once in a while too, to see the amazing beautiful insects, snakes, turtles and lizards. On the way to Madzharovo, we will pass some ancient sites, like Bulgaria's Stonehenge: the stone circle of Cromlech.
In Madzharovo we have diner. After diner, we travel back to Svilengrad, where you can leave the next morning to catch your flight home or spend a few more days in beautiful Bulgaria. If needed we can arrange a shuttle bus to bring you from Svilengrad to the airport in Sofia.